Products
Contact Address
Chromtech - Analytical Instruments
Carl-Zeiss-Str. 20
65520 Bad Camberg, Germany
Fon +49 (0) 6434 / 20768-0
Fax +49 (0) 6434 / 20768-81
e-mail: Contact
web: www.chromtech.de
e-Trap - A Cold Trap for GC Applications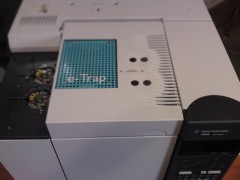 New e-Trap Plus and e-Trap standard version
Electrical Peltier driven , 2-stage Cold Trap.

Mounted outside of gc oven.

Inclusive e-Trap Control and IceStar Universal Liquid Cooler.

Temperature controlled by CTC - Combi Pal.

Temperatur range: : 50K below ambient to 300°C for eTrapPlus, from 20K below ambient to 300°C for standard eTrap version

Optimized for splitless (multiple) Headspace- and SPDE/SPME- Injection, as well as Thermodesorption.

e-Trap capillaries available with different adsorbenses (Tenax, etc.).

Currently available for Agilent 6890/7890/7820 Gc. Different GC types/Brands on request. Two versions available: eTrapPlus ( includes IceStar) and eTrap standard version.
Advantages:
In future, ugrades will be available for most of the common GC types/brands.

No liquid N2 or CO2 required!

Downloads