Products
Contact Address
Chromtech - Analytical Instruments
Carl-Zeiss-Str. 20
65520 Bad Camberg, Germany
Fon +49 (0) 6434 / 20768-0
Fax +49 (0) 6434 / 20768-81
e-mail: Contact
web: www.chromtech.de
eTrap - A Cold Trap for GC Applications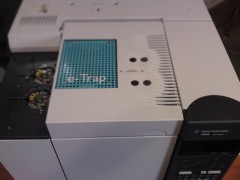 The new eTrap and eTrap Plus with IceStar Universal Liquid Cooler

The eTrap is a newly developed cold trap for gaschromatic applications, which uses the thermoelectric effect of Peltier elements and is therefore operated without cryogenic media such as liquid nitrogen (LN2) or liquid carbon dioxide (LCO2).

The eTrap is located outside of the GC oven and is therefore not affected by the sometimes high temperatures of the GC oven. The analytes are focused in a deactivated 1/16" stainless steel capillary, which is additionally filled with an adsorbent (Tenax TA 60/80) to improve the "trapping" properties in the case of very volatile components. The subsequent desorption of the trapped analytes takes place through resistive - and therefore very fast - heating. This causes the extremely narrow peak shape, especially for the very volatile components. This also results in an enormous increase in detection sensitivity, comparable to the purge & trap technique. Compared to this, the Headspace eTrap technology can be fully automated and is less complex to handle in routine operation.

eTrap and eTrap Plus differ only in the type of heat dissipation of the built-in Peltier elements. The standard version of the eTrap is cooled by ambient air and thus reaches temperatures of approx. 20K below the ambient temperature. The eTrap Plus, on the other hand, is operated in combination with the IceStar Universal Liquid Cooler. This combination enables temperatures of approx. 50K below the ambient temperature.

eTrap and eTrap Plus are widely used, especially in the analysis of volatile compounds (VOC) using headspace, SPDE , SPME, P&T and thermal desorption. Due to the possibility of splitless sample injection, as well as by the refocusing effect, especially valid for very volatile compounds (e.g. vinyl chloride, chloroethane, MTBE, etc.), there is a considerable increase in sensitivity when detecting these substances.
Specifications of eTrap Plus and eTrap standard version
Electrical Peltier driven , 2-stage cold trap.

Mounted outside of GC oven.

Inclusive e-Trap Control and IceStar Universal Liquid Cooler.

eTrap control is fully integrated into Agilent GCMS MassHunter or Agilent MSD ChemStation software and therefore part of the GCMS method. For chromatographic systems from other vendors a stand-alone control ("driver") is available as well.

Temperatur range: 50K below ambient to 300°C for eTrapPlus, from 20K below ambient to 300°C for standard eTrap version

Optimized for splitless Headspace and SPDE/SPME injection, as well as thermal desorption.

The deactivated 1/16" eTrap capillary is filled with Tenax TA 60/80 as standard. Other adsorbents on request.
Available for all Agilent Gc's. Two versions available: eTrapPlus ( includes IceStar) and eTrap standard version.
Advantages:

Downloads