Products
Contact Address
Chromtech - Analytical Instruments
Carl-Zeiss-Str. 20
65520 Bad Camberg, Germany
Fon +49 (0) 6434 / 20768-0
Fax +49 (0) 6434 / 20768-81
e-mail: Contact
web: www.chromtech.de
PAL classic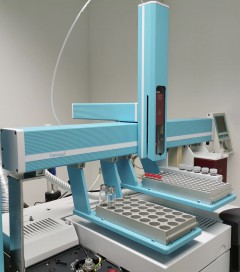 The PALclassic series are so-called CPO (= certified pre-owned) PAL samplers from the manufacturer CTC Analytics, which were already in use by a previous owner and are now for sale at CHROMTECH as used devices. In most cases, these devices were already sold by CHROMTECH as new devices, serviced regularly and now, for various reasons, accepted in part exchange. After complete disassembly, cleaning and powder coating of the housing parts, the devices are reassembled and brought up to date with the latest technical standards. The devices then go through an extensive test procedure, which ensures permanent trouble-free operation and therefore enables a new device guarantee period of 12 months.
Integration into common chromatography data systems is possible, so the PALclassic autosampler can also be combined with newly acquired chromatography systems such as GC, GC/MS or LC, LC/MS.
In addition to being used as automatic samplers for analytical measurement systems, these systems are becoming increasingly important with regard to laboratory automation and sample preparation. With simple measures and the appropriate software, the system can be transformed into a laboratory robot that can be used to dilute samples, derivatize, heat, mix or for SPE.