Products
Contact Address
Chromtech - Analytical Instruments
Carl-Zeiss-Str. 20
65520 Bad Camberg, Germany
Fon +49 (0) 6434 / 20768-0
Fax +49 (0) 6434 / 20768-81
e-mail: Contact
web: www.chromtech.de
PrepStar
Syringe Filtration with RTC PAL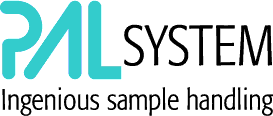 The CHROMTECH PrepStar is a laboratory instrument for automated sample preparation based on the PAL RTC or PAL RSI autosampler and is used for previously mainly manually performed laboratory activities such as serial dilution, mixing of different liquids, heating, purification, concentration, concentration, filtration, etc. , individually compiled according to customer specifications.
In the following example, we present a PrepStar solution on the subject of syringe filtration.
In the laboratory syringe filters are very often used to filter small volumes of a solution. By a technique called pressure filtration, the sample solution in a syringe is manually pressed through the membrane of the syringe filter.
A typical field of application is sample preparation ("clean-up") in chromatographic analysis methods such as gas and liquid chromatography (GC or HPLC).
The syringe filtration is characterized by only a very small dead volume.
Syringe filters are available in many designs and different pore sizes, with mostly 0.45µm or 0.2µm filters being used.
The manual filtration process described above can be performed automatically using the CHROMTECH SyFi Option for the CTC PAL RTC sampler.
Depending on the application, different filter sizes (diameters) as well as single or multiple use of the filters is possible. Thanks to the automatic tool change, the PAL RTC autosampler enables both the unfiltered solution to be drawn up and the syringe filter to be subsequently picked up from its tray position for filtration of the sample.
The filtration process can either take place in the open sample vial on the sampler tray, or after automatic opening with the help of the PAL Decapper module in a previously sealed sample vial.
Depending on the type and number of syringe filters required for the respective application, different tray configurations are available on request.